Adopt the EPR in just a few steps
In order to participate in the EPR, you will need to join an EPR provider, also referred to as a (core) community, and undergo its admission process.
1.

Choose an EPR provider

You need to join a certified EPR provider. In principle, you are free to choose your provider. Some cantons and professional associations have issued recommendations on choosing a provider. They can be contacted for further details.

If you work in a healthcare institution, this may decide which EPR (core) community you join.

2.

Admission process

It is always a healthcare organisation that joins the (core) community, not an individual. A self-employed midwife, for example, would join the EPR by affiliating their independent operation to a (core) community. The provider of your choice will explain their specific joining procedure to you.

3.

Health Provider Directory (HPD)

The "Health Provider Directory (HPD)" is the national register of healthcare organisations and professionals registered as EPR participants. The directory can be used to check whether a service provider is technically connected to the EPR. The core communities and communities can issue a certificate to the service provider to prove they are registered in the HPD and thus connected to the EPR.

4.

Inclusion in the EPR participants list

As soon as you are registered with the EPR, you will be entered into the EPR participants list. That means patients can find you easily and quickly in their EPR and grant you access rights if the need arises.

5.

Technical connection to the EPR

Access to the EPR can be provided either through an access portal or directly via your own treatment software. You may need to ask the manufacturers of your IT system to technically enable access to the EPR.

6.

Using the EPR day to day

Using the EPR for treating patients will also require an adjustment to your organisational processes. In particular, you will need to train your staff to be able to use the EPR and to comply with the corresponding data protection provisions. If a patient has an EPR, the pertinent documentation relating to this person will also need to be regularly filed in the EPR.
Frequently asked questions on opening an EPR
The costs for an EPR membership vary depending on the provider chosen, the size of the healthcare organisation, and any subsidies provided by the cantons or professional associations. Please contact providers directly for a quote.
As a healthcare professional, you can access your patients' EPRs either via web portal or directly via your own information system. Find out here what you need to bear in mind when connecting to the EPR.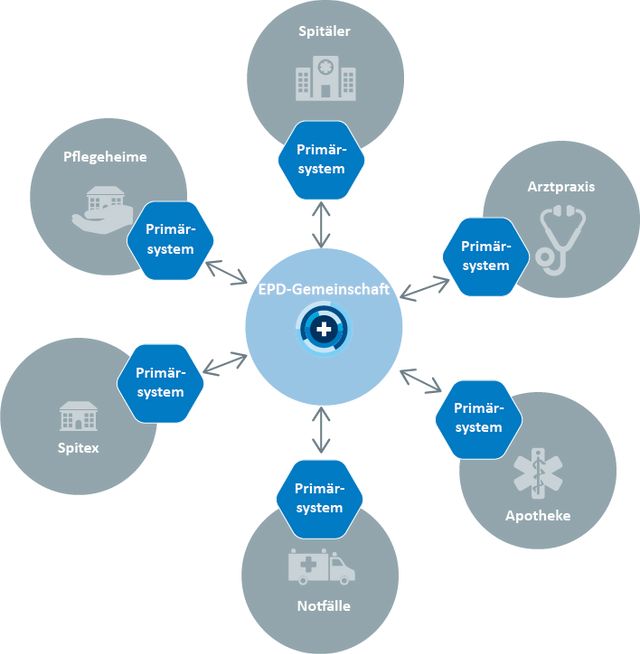 Primary systems are systems in which the electronic medical records or files of a hospital, doctor's surgery, pharmacy or therapist are managed. The stored information serves as the primary foundation for medical decisions.
The EPR contains health information from other individuals involved in the treatment process which can help you in your work.
In order to be able to work with your patients' EPRs, you will need to register your healthcare organisation and your staff with your (core) community and decide on one of the following connection options.
Frequently asked questions on opening an EPR
This solution does not require any technical integration. You import documents into the EPR manually. This solution works well as a transitional arrangement or for organisations which only handle a small number of electronic patient records.
This solution requires technical integration and the connection will take place via your own information system. You will be able to save data automatically in the EPR without having to switch between two interfaces to do so. Conversely, you will be able to save EPR data in your own IT system and reuse it. In this way, you will have access to relevant patient information at all times during the treatment period. To allow this "deep integration" to take place, your IT partner will need to make some adjustments to your information system. This solution for connecting to the EPR works well for organisations which work with it on a regular basis.
External link: Find out here which information system (primary system) providers have integrated the EPR or are in the process of doing so.

The (core) communities are required to offer you a training course on using the EPR.
You can also order a training kit from this website, which also provides a wide range of information materials and an online questionnaire to test your knowledge.
The electronic patient record (EPR) is a merger of individual autonomous projects, whereby healthcare professionals and their institutions organise themselves into a technical and organisational group. Under federal law, these groups are called "core communities" or "communities". They are the "EPR providers".
Only healthcare professionals can join the "communities". "Core communities", however, also offer connection options to healthcare professionals on the one hand, while offering patients the chance to open their own personal EPR on the other.
The communities and core communities can be formed locally in the care regions, for example within a canton or across several cantons. All healthcare professionals and their organisations can connect here (e.g. hospitals, nursing homes, doctor's surgeries, pharmacies or Spitex services).
Health services are the responsibility of the cantons. Due to the cantonal-level organisation of the care networks, a number of independent projects have emerged. Together, these form the EPR project.
Healthcare professionals and their institutions have organised themselves into technical and organisational groups. These groups offer the EPR to the general public and all healthcare professionals. They are the EPR providers, also known as core communities and communities.
That means there are a number of EPR providers operating at cantonal, regional or national level. EPR providers need to undergo a certification process. This certifies that the EPR providers and their partners meet the technical and organisational requirements in terms of data security, but also that they are compatible with each other.
This large number of providers also means that healthcare data are not stored centrally with a single group, which is an advantage in terms of data security.
The healthcare professionals or facilities which want or are required to participate in the EPR can choose any (core) community to the extent that the cantons where they are based allow them freedom of choice. Patients can also choose their EPR provider freely and change provider at any time.
The EPR works anywhere in Switzerland, even when your patients are with a different provider.
While patients can only be registered with one EPR provider at a time, you as a healthcare professional can be registered with more than one certified EPR provider at a time via different healthcare institutions. This can be practical if you work for two institutions that are not with the same EPR provider – for example an orthopaedist who runs their own practice and at the same time works at a hospital as an in-patient physician.
The electronic identity is not managed by the EPR providers, but rather by organisations which specialise in this field. These organisations, too, must undergo a certification process in accordance with the Federal Act on the Electronic Patient Record (EPRA).
External link: What does the certification mean?
Every EPR provider accepts a range of electronic identities. You can find out which identities are available and which are accepted by your EPR provider in this overview:
The procedure for obtaining your electronic identity varies for different EPR providers and electronic identity issuers.
In principle, the process for obtaining an electronic identity for the EPR is the following:
1. Select your EPR provider.
2. Find out which electronic identities are accepted by this provider and which, if any, are offered by your canton.
3. Go to the website of the electronic identity issuer and fill in the form.
4. Go through the identity check. This can either be carried out by an entity authorised by your canton or online.
With some EPR providers, you can obtain the electronic identity when you open your EPR; others require two separate processes for this. The best approach is to find this out directly from your chosen EPR provider.